British Ambassador to China Barbara Woodward CMG OBE attended the award ceremony. She said "I am delighted to learn that Bangor University China is one UK-Hunan partnership which has been incredibly active. Bangor University China offers a joint programme in Forestry and Environmental Management, reflecting the strengths of both partners as leaders in their own countries in preserving their natural environment. The programme will ensure that the next generation of British and Chinese scientists will be working together to combat global climatic challenges."
The Education Institutional Partnership of the Year was co-sponsored by the British Chamber of Commerce Shanghai and the British Council in recognition of the cooperation and impact of the Sino-British educational institutions and the achievements they have achieved. The evaluation criteria included the history of cooperation, the internationalization of joint programs / institutions, the promotion of the internationalization of UK universities, the contribution of the United Kingdom, China and the cooperative education project areas, as well as the achievements and impacts in scientific research, innovation, teaching, employment School-enterprise cooperation and other aspects. After a rigorous evaluation by the jury, the University of Nottingham Ningbo China eventually emerged as the best educational institution of the year.
The Education Institutional Partnership of the Year Award is one of the British Business Awards. The British Business Awards were launched in 2008 and are held every two years. This year eight awards are included: the Education Institutional Partnership of the Year Award, Chinese Investor of the Year Award, Sustainable Business Award, Best New Exporter to China Award, New Business Award, Best Services Award, Innovation Award, and British Company of the Year.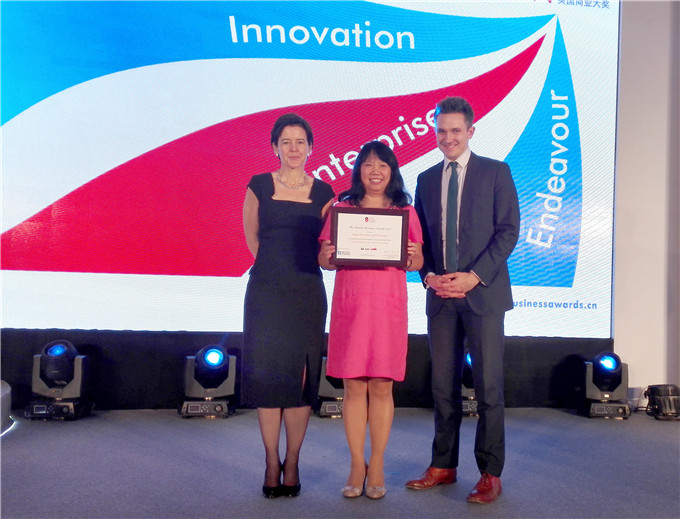 Prof. Fan Hong (middle), vice president of the Bangor University takes the medal from Ms. Lucy Watkins (left), the Business Director of British Council of China and Mr. Matthew Knowles (right), Director of the East China region